Save Kingswood Golf Course
On the Cover of the Leader Newspaper 26-9-218
and in the paper on October 3, 2018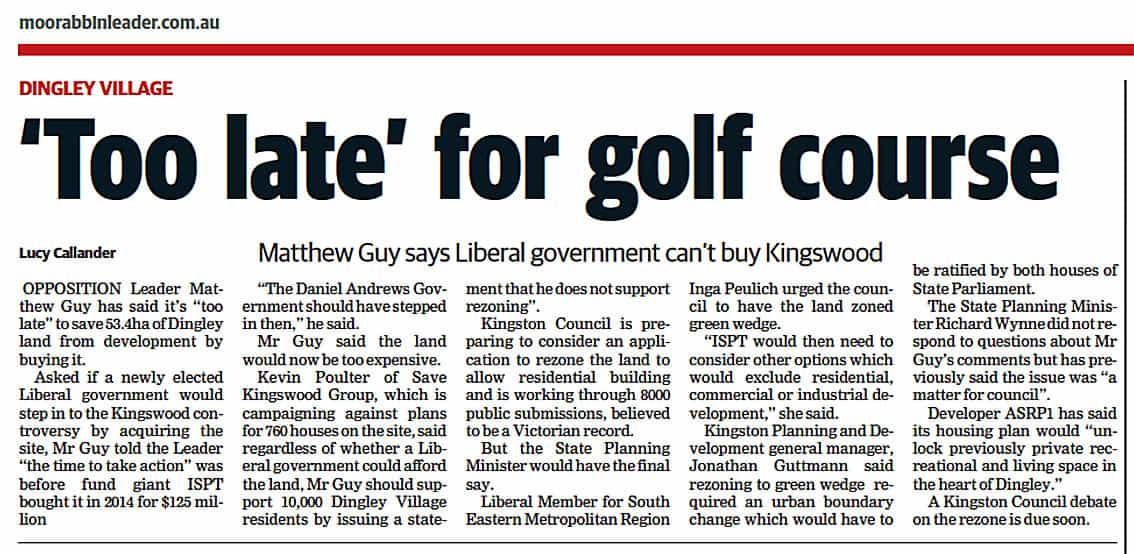 DINGLEY VILLAGE

'Too late' for golf course


Matthew Guy says Liberal government can't buy Kingswood

Lucy Callander

OPPOSITION Leader Matthew Guy has said it's "too late" to save 53.4ha of Dingley land from development by buying it.

Asked if a newly elected Liberal government would step in to the Kingswood controversy by acquiring the site, Mr Guy told the Leader "the time to take action" was before fund giant ISPT bought it in 2014 for $125 million

"The Daniel Andrews Government should have stepped in then," he said.

Mr Guy said the land would now be too expensive.

Kevin Poulter of Save Kingswood Group, which is campaigning against plans for 760 houses on the site, said regardless of whether a Liberal government could afford the land, Mr Guy should support 10,000 Dingley Village residents by issuing a statement that he does not support rezoning".

Kingston Council is preparing to consider an application to rezone the land to allow residential building and is working through 8000 public submissions, believed to be a Victorian record.

But the State Planning Minister would have the final say.

Liberal Member for South Eastern Metropolitan Region Inga Peulich urged the council to have the land zoned green wedge.

"ISPT would then need to consider other options which would exclude residential, commercial or industrial development," she said.

Kingston Planning and Development general manager, Jonathan Guttmann said rezoning to green wedge required an urban boundary change which would have to be ratified by both houses of State Parliament.

The State Planning Minister Richard Wynne did not respond to questions about Mr Guy's comments but has previously said the issue was "a matter for council".

Developer ASRP1 has said its housing plan would "unlock previously private recreational and living space in the heart of Dingley."

A Kingston Council debate on the rezone is due soon.


Save Kingswood response: If not purchase, then we call on Mr. Guy to state he opposes rezoning.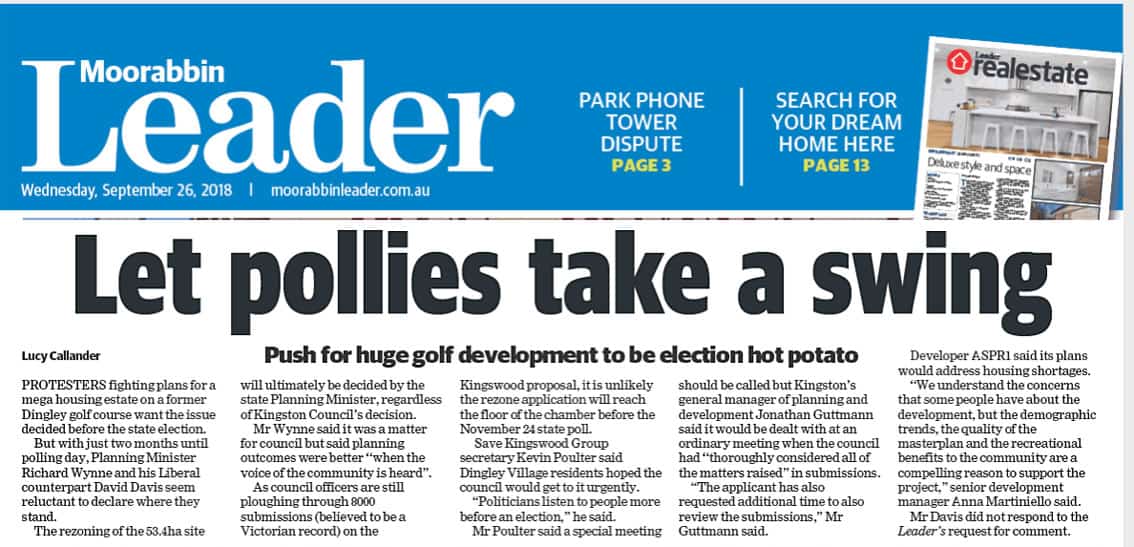 "Mr. Davis did not respond to the Leader's request for comment".

Mr. Davis, please support 10,000 Dingley Village residents, by stating you do not support rezoning of the Kingswood Golf Course.


Let pollies take a swing
Push for huge golf development to be election hot potato
Lucy Callander

PROTESTERS fighting plans for a mega housing estate on a former Dingley golf course want the issue decided before the state election.

But with just two months until polling day, Planning Minister Richard Wynne and his Liberal counterpart David Davis seem reluctant to declare where they stand.

The rezoning of the 53.4ha site will ultimately be decided by the state Planning Minister, regardless of Kingston Council's decision.

Mr Wynne said it was a matter for council but said planning outcomes were better "when the voice of the community is heard".

As council officers are still ploughing through 8000 submissions (believed to be a Victorian record) on the Kingswood proposal, it is unlikely the rezone application will reach the floor of the chamber before the November 24 state poll.

Save Kingswood Group secretary Kevin Poulter said Dingley Village residents hoped the council would get to it urgently.
"Politicians listen to people more before an election," he said.
Mr Poulter said a special meeting should be called but Kingston's general manager of planning and development Jonathan Guttmann said it would be dealt with at an ordinary meeting when the council had "thoroughly considered all of the matters raised" in submissions.

"The applicant has also requested additional time to also review the submissions," Mr Guttmann said.

Developer ASPR1 said its plans would address housing shortages.
"We understand the concerns that some people have about the development, but the demographic trends, the quality of the masterplan and the recreational benefits to the community are a compelling reason to support the project," senior development manager Anna Martiniello said.

Mr Davis did not respond to the Leader's request for comment.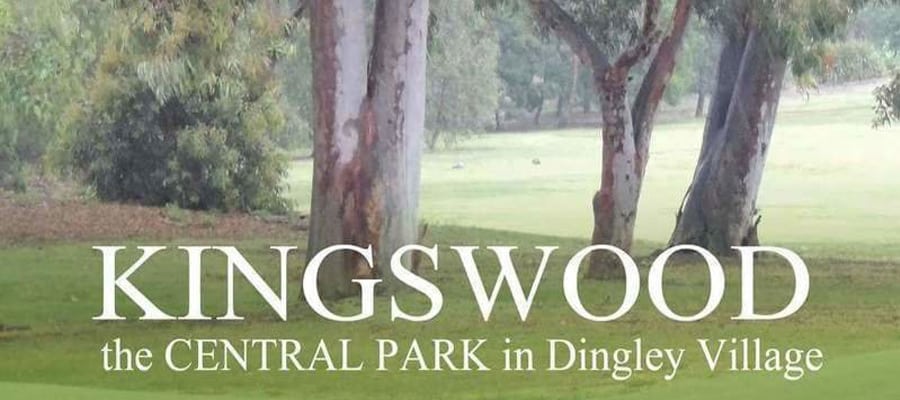 Email us to be on our mailing list
with "Save Kingswood" in the subject
and your name and address. Click
HERE to email
Webpage by
Save kingswood Group Incorporated

For private study only